"Watch him closely": Alleged Jury-Tampering in the Murdaugh Trial
An extraordinary press conference took place today in South Carolina.
Richard Harpootlian and Jim Griffin (attorneys for Alex Murdaugh) were at the microphone.  They revealed an in-depth investigation that found a litany of "extensive, deliberate, and self-interested" bad acts by the Clerk of Court, Becky Hill. They're seeking a new trial for Murdaugh. They say she:
implied the defense would lie:

held private meetings with the jury foreperson in a locked one-person bathroom

made derogatory statements about the defendant: "watch him closely ... look at his actions ... look at his movements"

discussed the autopsy photos with jurors
contrived a scheme involving a juror's ex-husband to pressure her to vote to convict,
got that same juror kicked off the jury, after nagging her and finding out she hadn't yet decided to vote "guilty"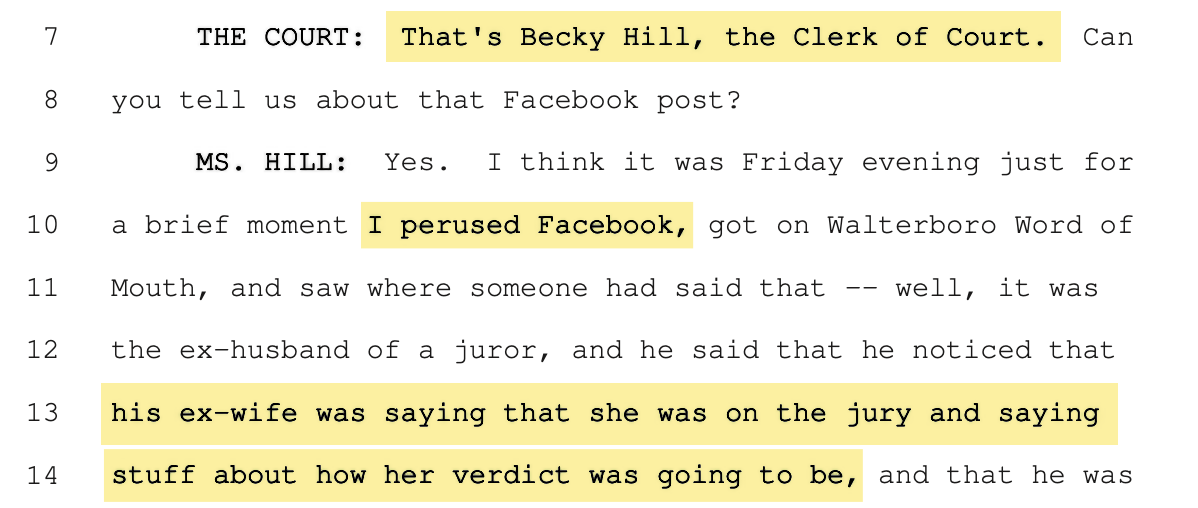 canceled cigarette breaks until the jury came back with a verdict (six jurors were smokers).
The defense team presented evidence in the form of these sworn affidavits by jurors and investigators:
It gets worse. This year, Becky Hill published an insider account of the trial: The now-ironically named, Behind the Doors of Justice. In an August 2023 interview pitching the book, she brags that she knew how the jurors were going to vote:
Will Folks:
"One of the things that struck me, reading your book, was the insight you had into that jury. It's almost as if you knew, from the very beginning, what they were thinking."
Becky Hill:
"They were going over in their minds what they'd heard throughout the trial. They knew that the verdict was going to be life-changing for Alex Murdaugh."
Not quite a confession, but not quite not one either.
Rolling it all up: if true, this is extreme behavior, and extremely illegal. She's an elected public official, not a mere contractor or court employee. The defense team has contacted both the FBI and the South Carolina Attorney General, asking them to investigate. They're requesting the court to stop the appeal and grant them a new trial.
What is jury-tampering?
According to Jim Griffin:
The test is not, would this have changed the verdict? Instead, the legal test is: Is the subject matter prejudicial to the defendant?
If that's correct (not a S.C. law expert), this should be a very straightforward and easy case to make.
In other states: the broadest approach they've taken is to criminalize communication made with the intent to influence a juror. One author (Herzog) calls this the "communication-plus-intent" approach.
Colorado
Colorado law is "typical" (id.) of this style:
A person commits jury-tampering if, with intent to influence a juror's vote, opinion, decision, or other action in a case, he attempts directly or indirectly to communicate with a juror other than as a part of the proceedings in the trial of the case.
Colorado clearly separates this criminal speech statute from traditional notions of jury tampering: bribing or intimidating a juror. The communication-plus-intent approach has been enacted by "twenty-two states plus the federal government". Id.
New York
New York divides the ill communication into first and second degree jury tampering. First degree tampering reads like Colorado's statute above:
A person is guilty of tampering with a juror in the first degree when, with intent to influence the outcome of an action or proceeding, he communicates with a juror in such action or proceeding, except as authorized by law. Tampering with a juror in the first degree is a class A misdemeanor.
Note, though, the high bar of the required intent: "...to influence the outcome...". New York's second degree tampering statute is more akin to section 215.19, Bribing a juror — but with an easier intent to prove:
...confers, or offers or agrees to confer, any payment or benefit upon a juror ... in consideration for such juror or third person supplying information...
---
References
Miranda Herzog, "The Intent to influence": Jury Tampering Statutes and the First Amendment, Note, Cornell Law Review, Volume 105, 2021, https://www.cornelllawreview.org/wp-content/uploads/2021/03/Herzog-note-final.pdf, last accessed: Sep. 5, 2023.
Colo. Rev. Stat. § 18-8-606, Bribing a juror.
Colo. Rev. Stat. § 18-8-608, Intimidating a juror.
Colo. Rev. Stat. § 18-8-609, Jury-tampering.
N.Y. Penal Law § 215.19, Bribing a juror.
N.Y. Penal Law § 215.23, Tampering with a juror in the second degree.
N.Y. Penal Law § 215.25, Tampering with a juror in the first degree.